Neighbouring Trails and Wilderness Areas
Access to some of Nova Scotia's best hiking, running and biking trails is easy at Brunello. The Beechville Lakeside Timberlea Trail is accessed from The Links at Brunello in three places across Highway #3.  This trail connects to the St. Margaret's Bay Rail Trail and then connects to the Rum Runners Trail that goes to Lunenburg.
The start of the Bluff Wilderness Trail System is only about four kilometers away from The Links at Brunello. In the Bluff Wilderness area, there are about 30 kilometers of wilderness trails, perfect for a day's hike or overnight wilderness camping. You can truly be away from it all in this spectacular isolated wilderness area.
Across the 103 Highway, the outdoor opportunities continue. The Halifax Wilderness Common has 6000 acres of designated wilderness and 200 acres of more developed park. It offers excellent opportunities for biking, swimming, hiking, running, and cross country skiing.
Long Lake Provincial Park and the Blue Mountain Birch Cove Lakes Wilderness Area are also nearby.
Enjoy the active lifestyle that is The Links at Brunello. Only 15 minutes from downtown, and seconds from the great outdoors.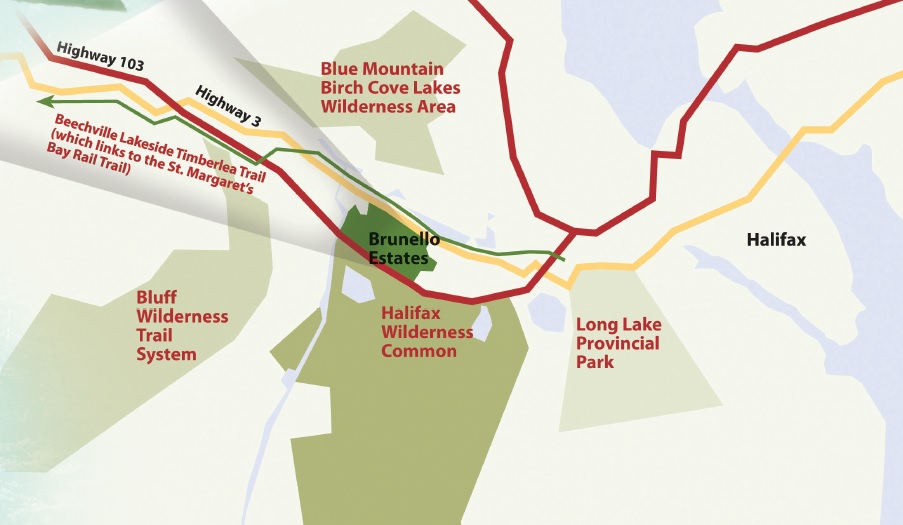 Halifax – Lunenburg | 119km
View the interactive map here
'A spirited adventure awaits! From the vibrant city of Halifax to the charming, colourful town of Lunenburg, a UNESCO World Heritage Site, journey to destinations of seafarers and rum runners through sheltered wooded trails connecting coastal communities. This shared use 110km trail is an easy, flat ride on a former rail bed. It features seaside adventures in Hubbards, Chester, Oak Island and Mahone Bay. Savour local flavours at award-winning restaurants, explore attractions, boutiques, and artisan shops, go hiking, sea kayaking or sailing on the iconic Bluenose II, and celebrate with spirits at Lunenburg's distillery!'
Snapsho of BLT Trail and information from Rum Runners Trail website